OFFICE COMPLEX OF REVITAL OFFICE BUILDING

Budapest II., 26. Lajos Street
Topographical plot number: 14796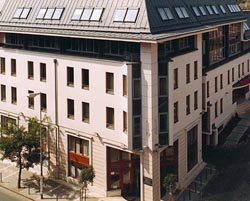 Location of the building
The office building was completed on the 1st September 1999 and since then has been fully occupied. The property is located in Buda, in the southern part of the planned "Óbuda-Újlak" pedestrian centre, on the plot bordered by 26 Lajos Street, 4 Sajka Street and 25 Bécsi Road. A new city centre for Middle Buda is going to be developed here, between Zsigmond Square and the old roman Amphitheatre. The eastern part of the 1040 sqm plot is bordered by Lajos Street, an important traffic road, while Bécsi Road borders the western part.
A good access is ensured partly by bus service No. 6, 60 and 86 along Lajos Street and partly by tram service No. 17 on Bécsi Road.
Introduction of the building
The office building consists of two physically and technically completely separated, independent wings, two shops and a deep garage. The Lajos Street office wing with a total floor area of 1285 sqm is functioning as an independent building, with own reception, elevator, staircase, engineering and electrical system. The office complex owned by Bécsinvestor Ltd. is situated in the office building's Lajos Street wing, at the mezzanine, the 1st and 2nd floor.
The office complex offered for sale can be entered at the Lajos Street- Sajka Street corner, leading to the reception on the ground floor. The deep garage is accessible through the Sajka Street ramp with card entry system.
The Lajos Street office wing's attic, the 4th floor office space and 6 parking places were bought and are used by AKA Inc.
The Bécsi Road office wing with its shop was bought by Carion Inc. They have also received the exclusive right to use part of the inner courtyard that is connected to the wing they own.
On the ground floor of Lajos Street wing with a separate entrance from the street, an office furniture shop is operating, which has an independent mechanical system from the office wing.
Area specification
Floor area of the building part for rent, owned by Bécsinvestor Ltd.:
1st floor:

145 sqm

2nd floor:

224 sqm
The office area is supplemented by 5%, the communal areas' proportional ownership right (reception, stairway, lift and engineering rooms):
The office block includes 6 parking places in the deep garage.
Rent
| | |
| --- | --- |
| Offices | 9,5-10,5 EUR/sqm/month + VAT |
| Car parks | 70,0 EUR/sqm/month + VAT |
| | |
| Management fee&nbsp&nbsp&nbsp&nbsp | 3,5 EUR/sqm/month + VAT |
All data in this brochure reflect the situation as it was valid in March, 2017.
Revital Inc. reserves all rights of modification.